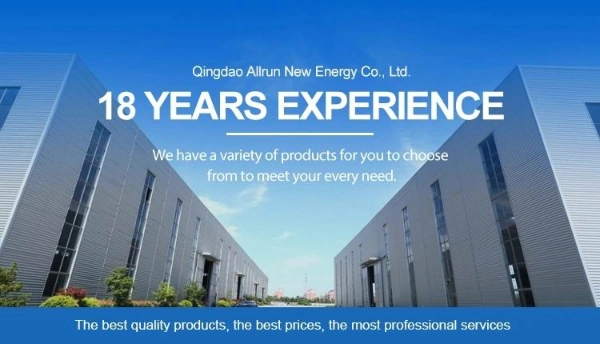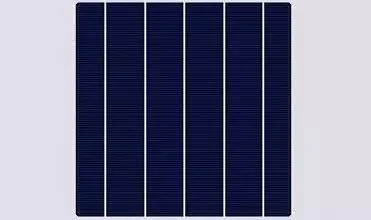 Solar Cell
> High Efficiency PV Cells
> Appearance Consistency
> Color sorting ensure consistent appearance on each module
> Anti-PID
Glass
> Antireflective glass
> Translucency of normal luminance is increased by 2%
> Module efficiency is increased by 2%
> Self-cleaning function
> Service life is as long as 25 years (30 years optional)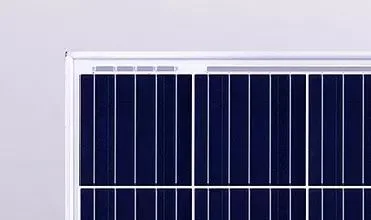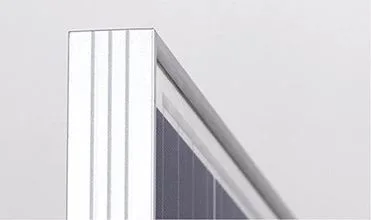 Frame
> Conventional frame
> Silver or black frames are optional
> Boost bearing capability and prolong service life
> Serrated-clip design tensile strength
> Seal-lip designglue injection
Junction box
> Conventional standalone edition and engineering custom edition
> Quality diode ensures module running safety
> IP67 protection level
> Heat dissipation
> Long service life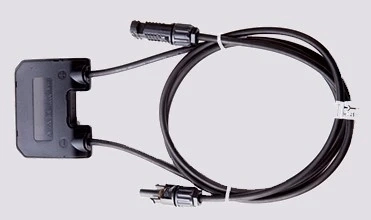 Electrical Characteristics AR300M-24
Maximum power at STC

(

Pmax

)

300W
Optimum operating voltage

(

Vmp

)

32.6V
Optimum operating current

(

Imp

)

9.64A
Open-circuit voltage

(

Voc

)

40V
Short-circuit current

(

Isc

)

9.21A
Short-circuit current temperature coefficient

(

0.065±0.015

)

%/ºC
Open-circuit voltage temperature coefficient -

(

80±10

)

mV/ºC
Peak power temperature coefficient -

(

0.5±0.05

)

%/ºC
NOCT (Air 20ºC; Sun 0.8kW/m wind 1m/s) 47±2ºC
Operating temperature -40ºC to 85ºC
Maximum system voltage 1000V DC
Power tolerance ±3%
STC: lrradiance 1000W/m2,Module temperature 25ºC,AM=1.5

Specification AR300M-24
Cell Mono-crystalline silicon solar cells
No. of cell and connection 60(6×10)
Dimension of module 1640*990*35MM
Weight 20(±1)kg
Specifications are subject to change without notice at any time.
Electrical Characteristics AR320M-24
Maximum power at STC

(

Pmax

)

320W
Optimum operating voltage

(

Vmp

)

37.56V
Optimum operating current

(

Imp

)

8.52A
Open-circuit voltage

(

Voc

)

45.86V
Short-circuit current

(

Isc

)

8.99A
Short-circuit current temperature coefficient

(

0.065±0.015

)

%/ºC
Open-circuit voltage temperature coefficient -

(

80±10

)

mV/ºC
Peak power temperature coefficient -

(

0.5±0.05

)

%/ºC
NOCT (Air 20ºC; Sun 0.8kW/m wind 1m/s) 47±2ºC
Operating temperature -40ºC to 85ºC
Maximum system voltage 1000V DC
Power tolerance ±3%
STC: lrradiance 1000W/m2,Module temperature 25ºC,AM=1.5

Specification AR320M-24
Cell Mono-crystalline silicon solar cells
No. of cell and connection 72(6×12)
Dimension of module 1956*990*40MM
Weight 22(±1)kg
Specifications are subject to change without notice at any time.


Electrical Characteristics AR350M-24
Maximum power at STC

(

Pmax

)

350W
Optimum operating voltage

(

Vmp

)

38.6V
Optimum operating current

(

Imp

)

9.07A
Open-circuit voltage

(

Voc

)

47.3V
Short-circuit current

(

Isc

)

9.57A
Short-circuit current temperature coefficient

(

0.065±0.015

)

%/ºC
Open-circuit voltage temperature coefficient -

(

80±10

)

mV/ºC
Peak power temperature coefficient -

(

0.5±0.05

)

%/ºC
NOCT (Air 20ºC; Sun 0.8kW/m wind 1m/s) 47±2ºC
Operating temperature -40ºC to 85ºC
Maximum system voltage 1000V DC
Power tolerance ±3%
STC: lrradiance 1000W/m2,Module temperature 25ºC,AM=1.5
Specification AR350M-24
Cell Mono-crystalline silicon solar cells
No. of cell and connection 72(6×12)
Dimension of module 1956*990*40MM
Weight 22(±1)kg
Specifications are subject to change without notice at any time.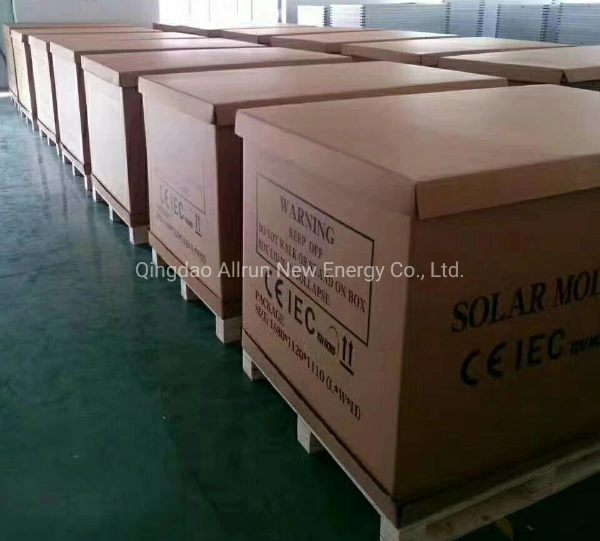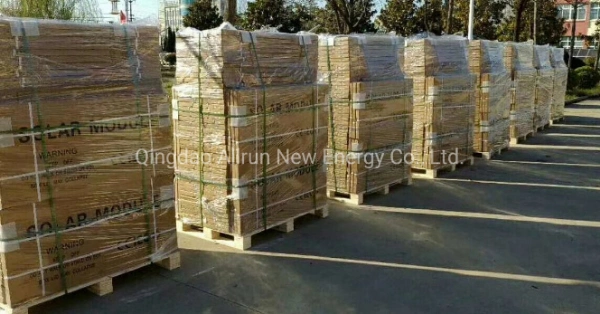 1. High cell efficiency with quality silicon materials for long term output stability and reliability.
2. Rigorous quality control to meet highest international standards.
3. High transmittance low iron tempered glass with enhanced stiffness and impact resistance
4. Unique frame design with high mechanical strength for easy Installation.
5. Advanced encapsulation material with multiplayer sheet lamination to provide efficient protection from the severest environmental conditions
6. Outstanding electrical performance under high temperature and low irradiance conditons
1. What is the brand for this MONOCRYSTALLINE SOLAR PANEL?
ALLRUN solar, we are the manufacturer of this panel, OEM service is available, wholesales is welcome
2. What kind of Solar Cells does it have
---poly crystalline 156*156mm or mono 125*125 and 156*156 or 166CELLS
3. Is the front panel Glass or Plastic
---Tempered glass 3.2mm thickness, Light transmittance up to 95%.
4. Does it meet Europe Standards for Solar Energy
This is TUV approval products, all the producing procedure apply TUV&UL.
5. What is the Efficiency level
--- Between 19-23% for solar cells.
6. What is the Nominal Voltage
-- 18v 20v 24v 36v 30v 48v , and so on, we can adjust to what you need
7. What is the Warranty Period, How many years?
Power efficiency warranty:
95% in 10 years; 85% in 30 years.