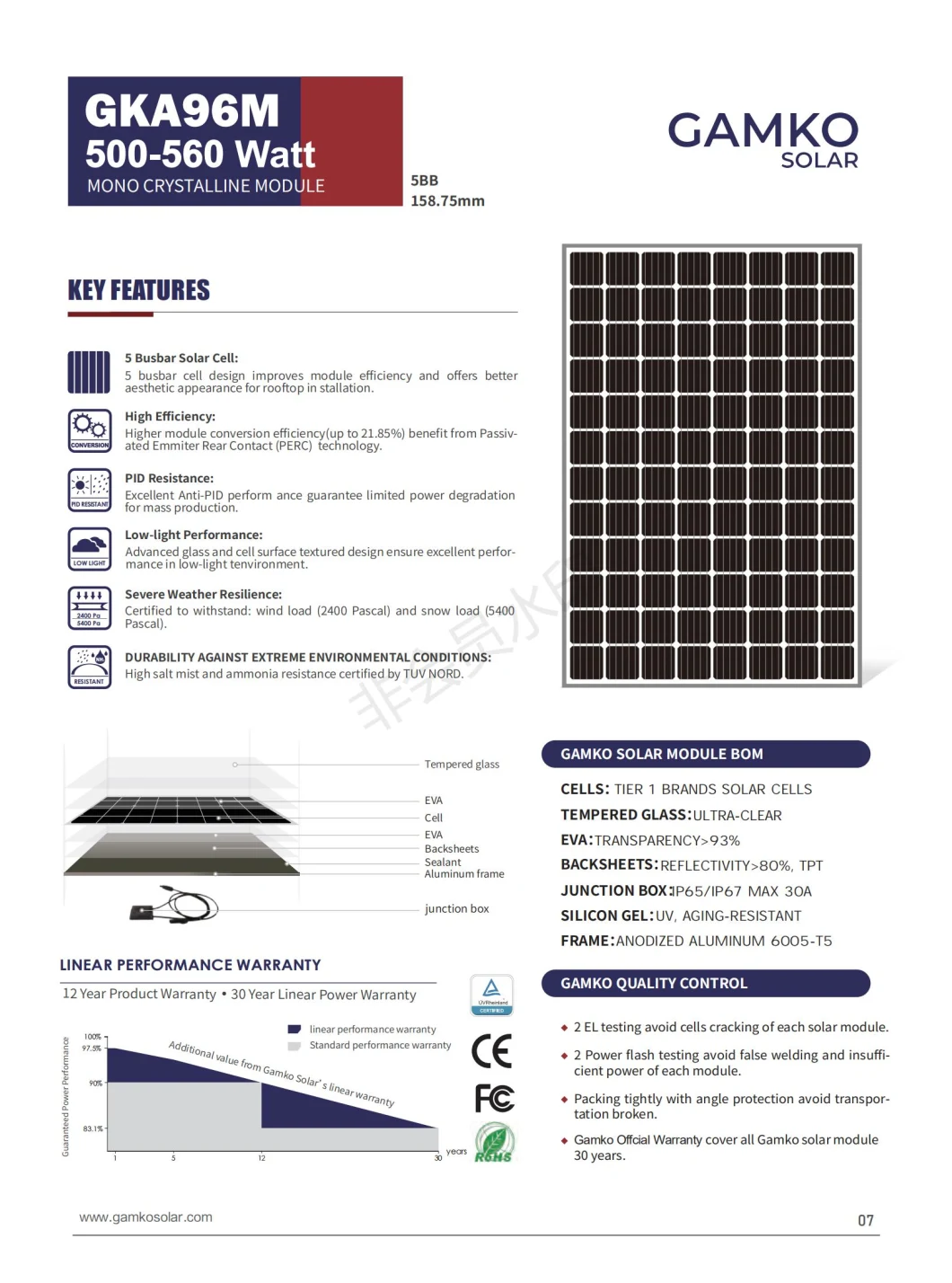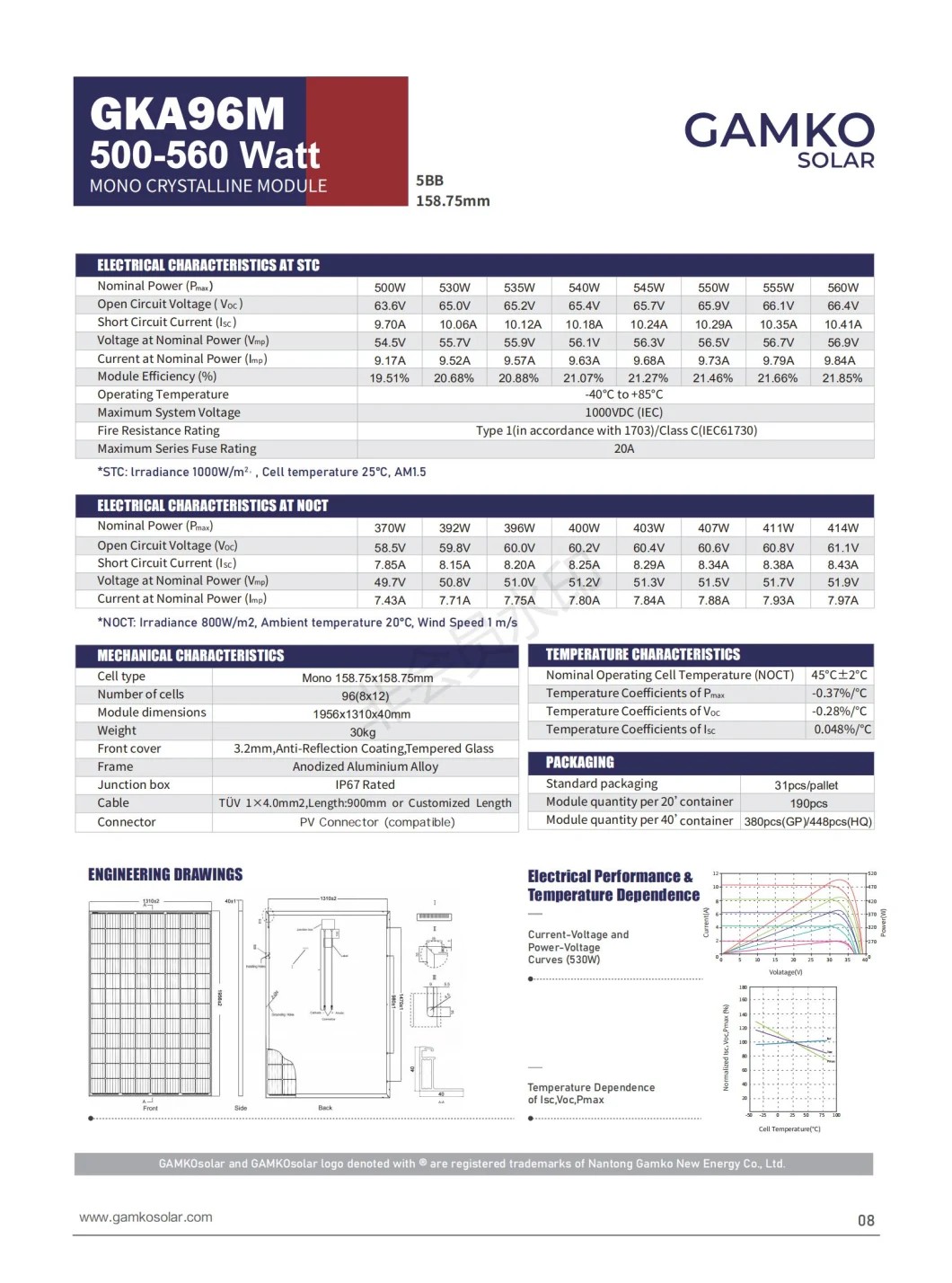 AMKO SOLAR MODULE BOM
GAMKO QUALITY CONTROLGAMKO QUALITY CONTROLGAMKO QU
GAMKO QUALITY CONTROL
C
ONTROLGAMKO QUALITY CON
*2 EL testing avoid cells cracking of each solar module.
*2 Power flflash testing avoid false welding and insufficient power of each module.
* Packing tightly with angle protection avoid transportation broken.

LINEAR PERFORMANCE WARRANTY

1. 30 years limited product warranty.
2. Limited linear power warranty: 12 years 90% of the nominal power output,
30 years 83.1% of the nominal power output.


CERTIFICATIONS

1.IEC61215, IEC61730, IEC62716, IEC61701, CE, CQC, CGC, ETL(USA),
JET(Japan), J-PEC(Japan), Kemco(South Korea), KS(South Korea), MCS(UK),
CEC(Australia), FSEC(FL-USA), CSI Eligible(CA-USA), Israel Electric(Israel),
InMetro(Brazil), TSE(Turkey)
2. ISO9001:2008: Quality management system
3. ISO14001:2004: Environmental management system
4. OHSAS18001:2007: Occupational health and safety management system


COMPANY PROFILE
Gamko energy, Worldwide Energy and Manufacturer, is a professional solar module manufacturer with a 10-year experience in production and quality control since 2008. Gamko is also a provider of technical services for solar power plant(on-grid and off-grid), including technical design, installation and maintenance, for customers all over the world.

In August 2013, Gamko adjusted its strategy and started to cooperate with the top-level factories in Taiwan, South Korea and USA to produce GAmko modules. With the best and most advanced production equipment in different countries, In 2018, we have a production capacity of 700MW.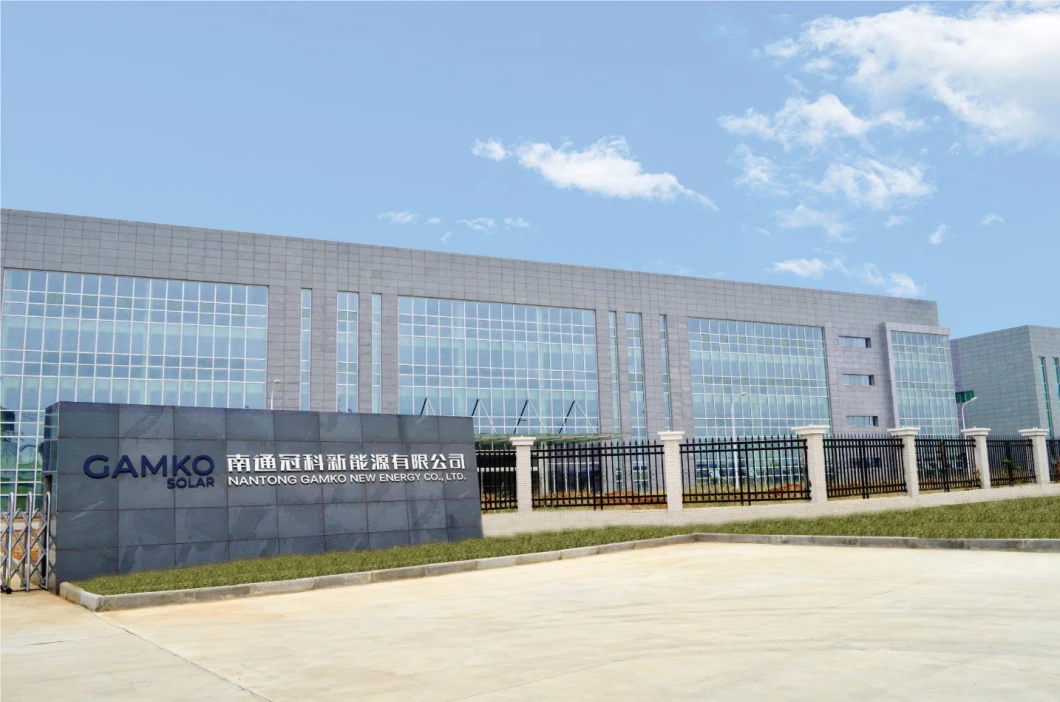 Our strength guarantees quality and quantity
http://gamkosolar.com
Precision Machining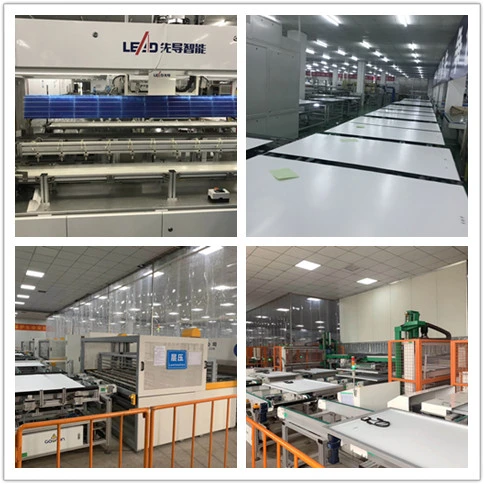 Strict and testing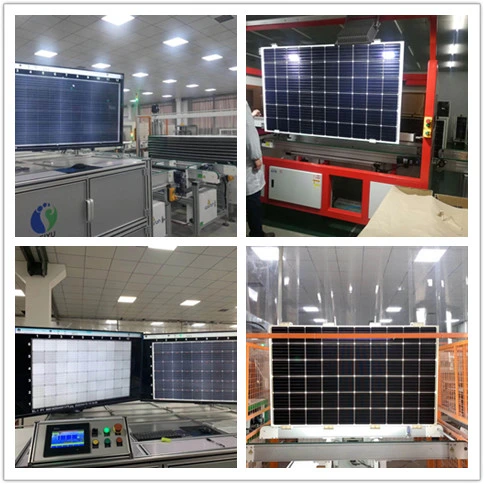 Warehouse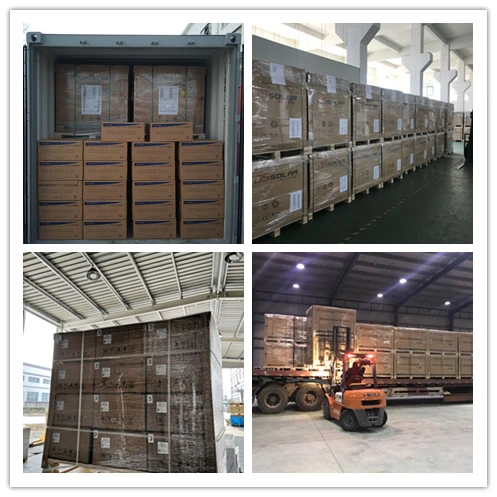 Certification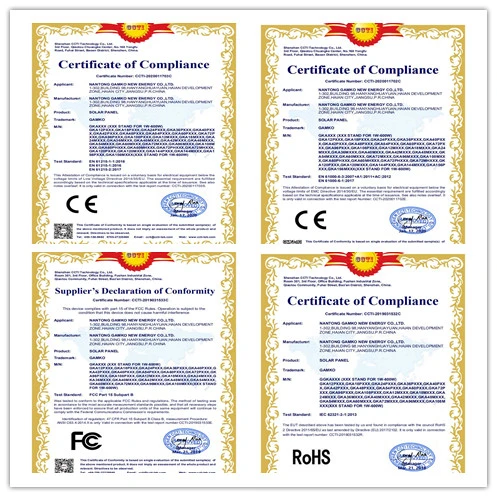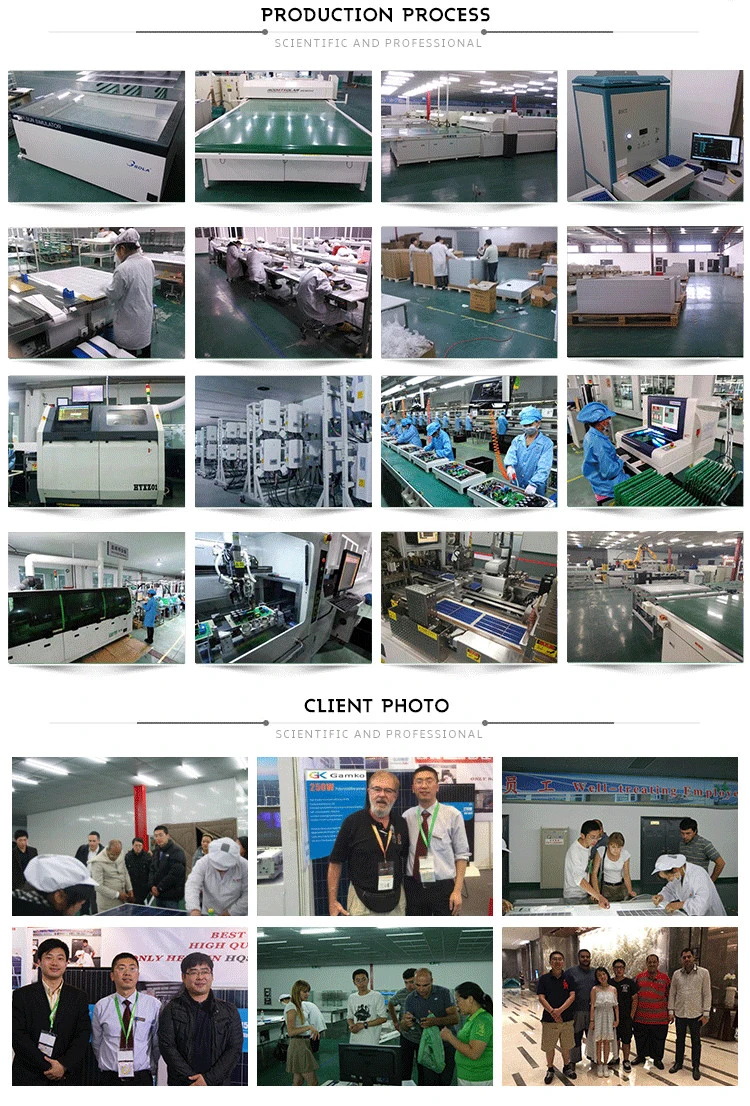 Our Services:
OEM Welcomed
Warranty: 30 Years
Certifications can be supported
Sample for testing is supported
After-Sale Service: 24 Hour-Hot Line for Consultancy and Technical Support
Delivery time:
15 working days after receiving payment for one container
FAQ
Q1:We like to buy your panels, cause the price is good, but the price is not most important, I don't like to buy the trash, how do I know your solar panel have a good quality, everybody say they are A grade panels, how I can trust you?
A:Firstly, we make new panels not stock panel, we will providing the flash test report,Series number, Power rates , voltage, current all mentioned on the flash test report for individual solar panel, The stock panel have no any database. You don't know if they are defective or broken panels. But its not enough. Please ask Gamko provide the flash test photo and EL photo for each panel.
Q2:I am also worry about my payment safe, How can you guarantee me 100% payment security?
A:if you do worry about the payment safety so either I, lets do "Alibaba Trade Assurance Payment" for both safety.

Q3:How To Ask for Support if product failure in warranty?
A:1. Email us about the PI number, serial number, product S/N number, PCB board number most importantly, is the description of failure products on the condition that it is operated correctly, to the best, show us more detailed pictures or video.
2. We will submit your case to our after-sales department to satisfy your demand. However, we believe our quality, and I believe if any quality problem, you can get the refund from our company directly.
3. Usually, within 24 hours, we will email you the best solutions.