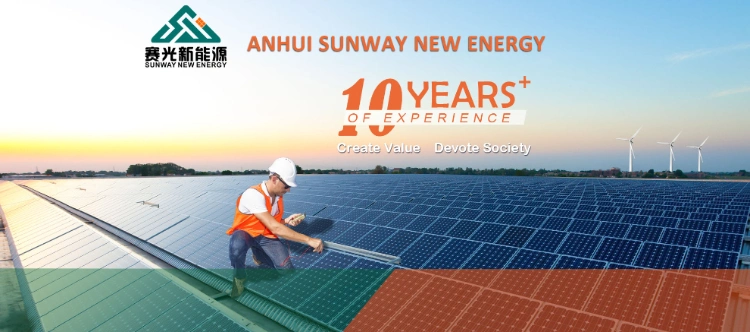 SOLAR PANEL, HALF CUT SOLAR PANEL, SOLAR PANEL, SOLAR PANEL, SOLAE POWER SYSTEM, SOLAR PANEL
1.Higher Yield Due to Better Shading Response
Half Cell Module comprises two separated and identical solalr cell arrays, which means the ordinary strings of cells are cut into halves, and these shorter strings compose which has separated current paths. When a module is shaded, only one side shaded array's current will be impacted, while the other array will still be functionally producing power. Under this circumstance, when a module is shaded, the affected working areas of Blade will be 50% less.
By cutting solar cell into halves, the internal power loss will be lower and hot spot effect will also be reduced.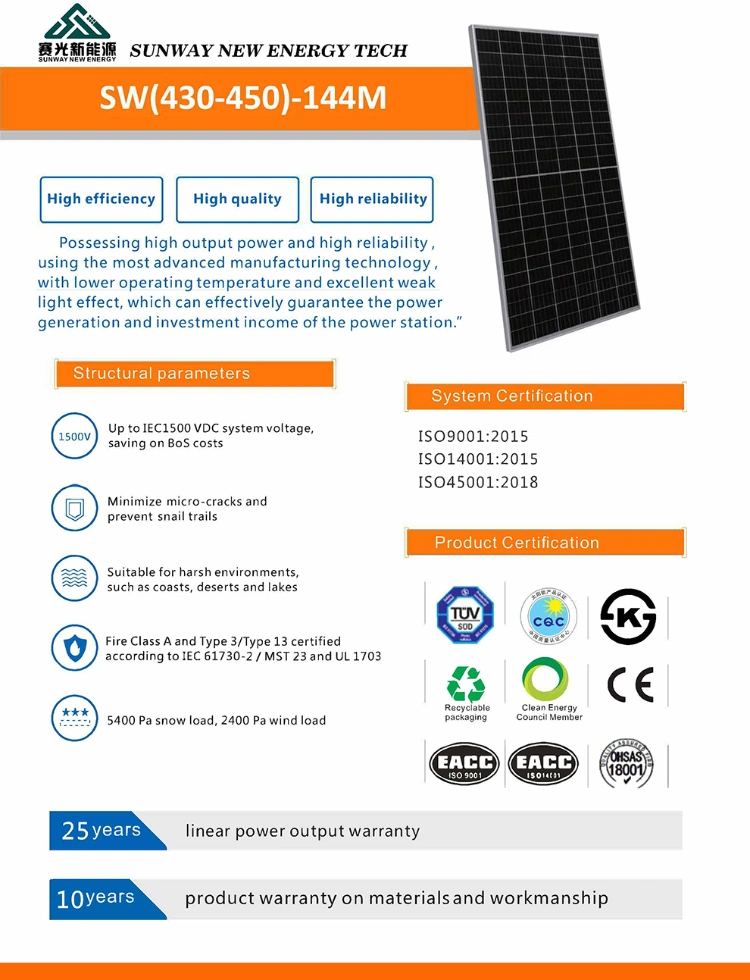 2.Less Mismatch Loss
Instead of 6 internal strings of cells, half cell module has 2*6 shorter ones. This design effectively deals with the mismatch
happened between cells caused by shadow, out of sync performance degradation, etc.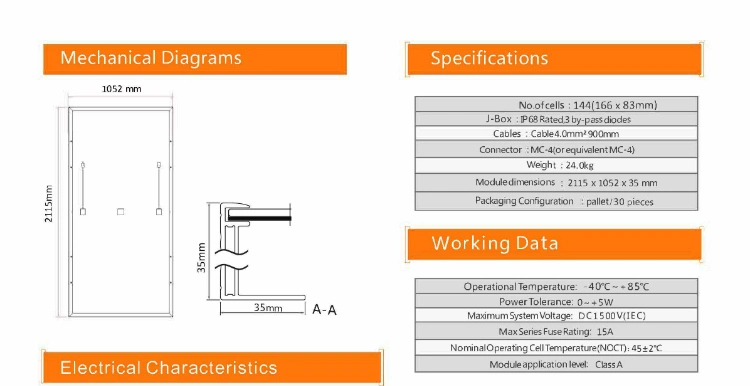 Model
SWM435-144M
SWM440-144M
SWM445-144M
SWM450-144M
SWM455-144M
Rated Maximum Power at STC
435W
440W
445W
450W
455W
Open Circuit Voltage(Voc/V)
48.6
48.8
49.0
49.2
49.4
Maximum Power Voltage(Vmp/V)
40.8
41.0
41.2
41.4
41.6
Short Circuit Current(Isc/A)
11.4
11.47
11.54
11.61
11.68
Maximum Power Current(Imp/A)
10.67
10.74
10.81
10.88
10.95
Module Efficiency
19.6%
19.8%
20.0%
20.2%
20.4%
Standard Test Condition(STC)
Irradiance 1000w/m2, Cell Temperature 25 Centigrade, Air Mass 1.5
ELECTRICAL DATA(NMOT)
Maximum Power-PMAX (Wp)
327.5
331.2
335
338.7
342.4
Maximum Power Voltage(VMPP/V)
38.1
38.3
38.5
38.7
38.9
Maximum Power Current-IMPP (A)
8.59
8.65
8.71
8.76
8.81
Open Circuit Voltage-VOC (V)
46.4
46.6
46.8
47.0
47.2
Short Circuit Current-ISC (A)
9.08
9.14
9.19
9.25
9.30
NOCT:Irradiance 800W/m2,Ambient Temperature 20°C,Wind Speed 1m/s.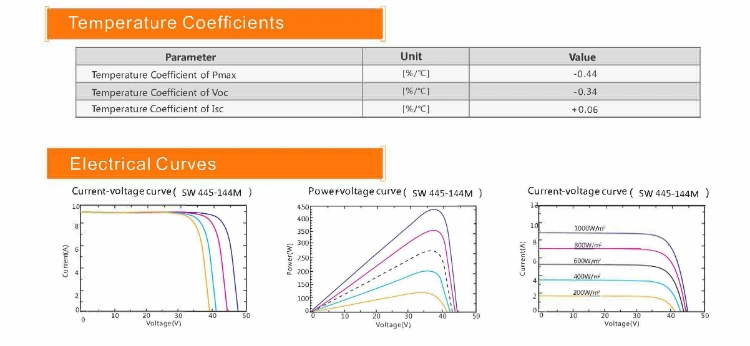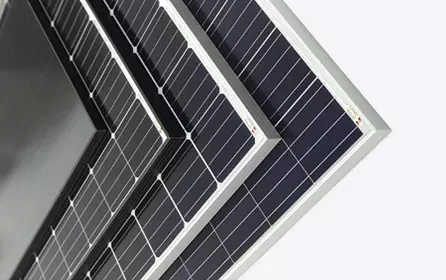 Glass
* High-transmittance and low reflection
Inspection:GB15763.2-2005.ISO9050
* High solar transmittance
* High mechanical strength
* High efficiency is 22%
* High shunt-resistance: adapt the several environmental conditions.
* By pass diode minimizes the power drop by shade.
* Excellent low light effect
Low breakage rate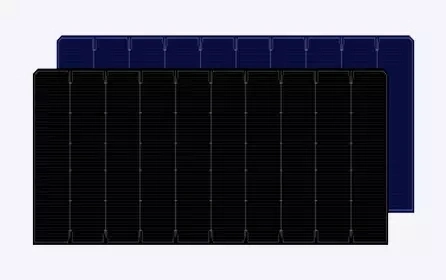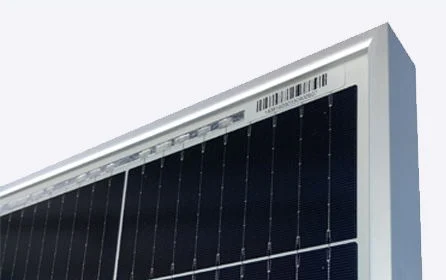 * Aluminium extrusion profile with prompt delivery.
* Available in customized surface finish.
* Excellent material for smooth and subtle edges.
* Extrusion for construction and other industrial purposes.
* Unique split junction box design to minimize the loss caused by occlusion

*

Combination of series circuit and parallel circuit, reduced internal power loss. * IP68 Waterproofness, Full-Glue-Filled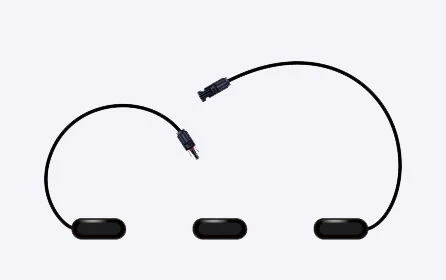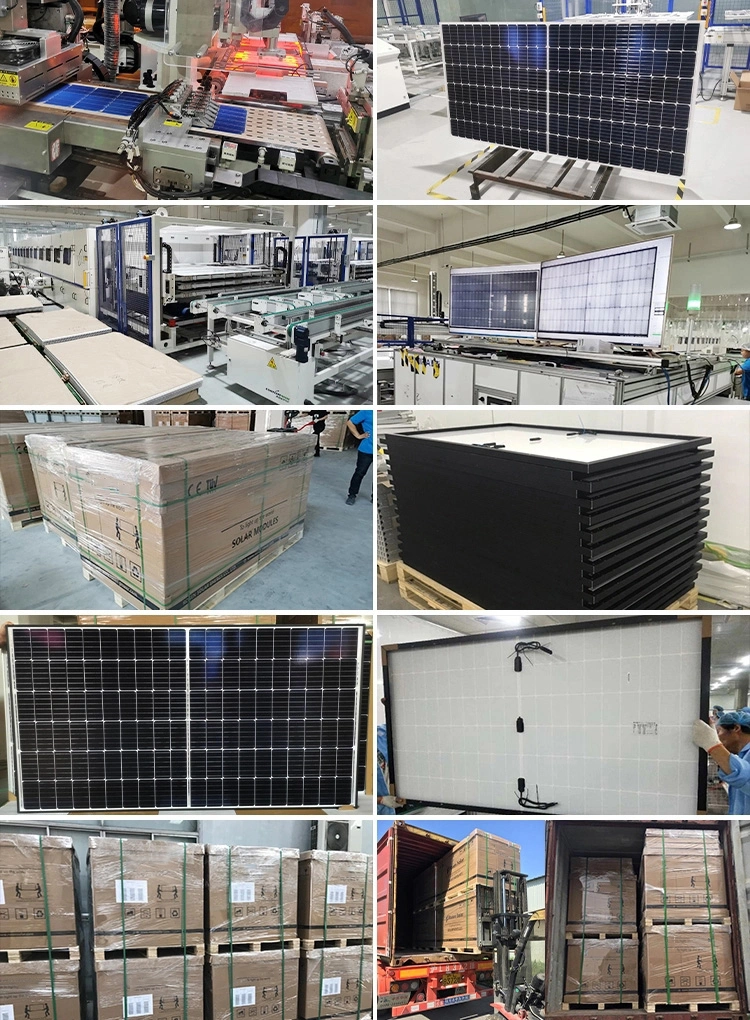 PROJECT CASE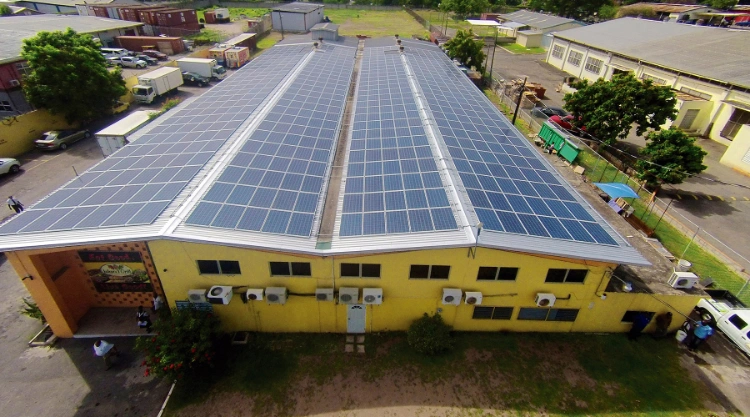 Factory off grid system in Jamaica,25KW
Location:
Kingston,Jamaica
Developed:
2018
Purpose: Clients factory area often cut off power every day, it has serious problems for their production. Built this off grid
hybrid type system resolve their problem perfectly.
Haiti Hospital off grid in Bonne Fin
Location:
Southern Haiti, Hospital Lumiere
Developed: 2019
Purpose: In order to alleviate these issues, SUNWAY spearheaded the construction of a off grid solar system. We designed
the AC-coupled microgrid with the goal of enhanced resiliency for the critical medical center.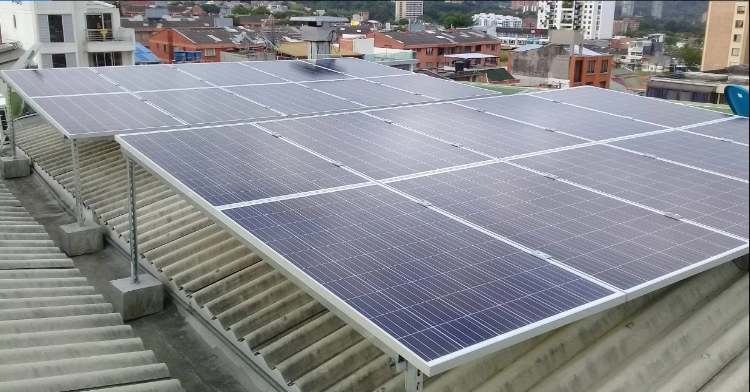 EcoStar Hotel
Solar Photovoltaic Grid-Tied 5 kWp - Hotel
Location: Ibague, Tolima, Colombia
Developed: 2018
Purpose: Supply, Installation and commissioning of 5 kWp grid-tied system for self-consumption